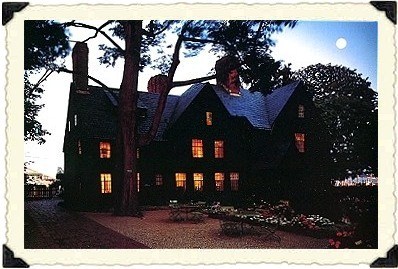 the House of the Seven Gables
The Salem Massachusetts Postcard Tour

Tour Salem Massachusetts from the comfort of your home or office!

Tourism | Witchcraft | Houses | Maritime |Salem Images

Start the Postcard Tour

This postcard tour contains 44 postcard images of Salem highlights, and is divided into five major sections. Feel free to take the whole tour starting with the first postcard, or simply start at the section you are most interested in. Postcards selected for this Salem Postcard Tour were selected because of historical interest, tourist interest, quality of photography, and human interest.
Index of Postcards
Click on the blue highlighted description to go to that postcard.
Click on the [link] to go to the web site of that organization.
Part 1 - Salem Tourism Highlights
Postcard 1 - Roger Conant statue
Postcard 2 - The House of the Seven Gables [ link ]
Postcard 3 - Salem Witch Museum [ link ]
Postcard 4 - The Salem Witch House [ link ]
Postcard 5 - The Custom House in Salem
Postcard 6 - Pickering Wharf [ link ]
Postcard 7 - Salem Marketplace
Postcard 8 - Pickering Wharf, Central Wharf, Derby Wharf
Postcard 9 - Historic Derby Street
Postcard 10 - Roger Conant Statue and Salem Witch Museum
Postcard 11 - Aerial View of Salem
Postcard 12 - Salem Mass - The Witch City [ link ]
Back To Top
---
Part 2 - Salem Witch and Witchcraft Highlights
Postcard 1 - Salem Witch Trial Painting [ link ]
Postcard 2 - Red Witch Circle [ link ]
Postcard 3 - Tituba [ link ]
Postcard 4 - Witch Trial Reenacted [ link ]
Postcard 5 - The Witch Jail [ link ]
Postcard 6 - Witch Hanging at Gallows Hill [ link ]
Postcard 7 - Giles Corey crushed by rocks [ link ]
Postcard 8 - Historic Painting - humorous
Postcard 9 - The Witch City - Salem Mass
Back To Top
---
Part 3 - Historic Salem Houses and Buildings
Postcard 1 - Essex Institute in Salem - founded 1821 [ link ]
Postcard 2 - Ropes Mansion and Gardens (1727) [ link ]
Postcard 3 - Ropes Mansion front view [ link ]
Postcard 4 - Andrew-Safford House (1818) [ link ]
Postcard 5 - The Kitchen, John Ward House (1684) [ link ]
Postcard 6 - Gardner Pingree House (1804) [ link ]
Postcard 7 - Pingree House (1804) [ link ]
Postcard 8 - Crowninshield-Bentley House (1727) [ link ]
Postcard 9 - Samuel McIntire (1757-1811) [ link ]
Back To Top
---
Part 4 - Salem's Maritime History
Postcard 1 - The Salem Brig Grand Turk [ link ]
Postcard 2 - Nathaniel Bowditch (1773-1838)
Postcard 3 - The Ship Mount Vernon [ link ]
Postcard 4 - Captain John Carnes (1756-1796)
Postcard 5 - Personal Effects of 19th Century Sailor
Postcard 6 - Scene "The Diorama" [ link ]


Back To Top
---
The following Salem images are not from postcards
Image 1 - East India Marine Hall [link ]
Image 2 - Pioneer Village
Image 3 - Launching of the Ship Fame
Image 4 - The Examination of a Witch
Image 5 - View from the Custom House
Image 6 - The Friendship
Image 7 - View from Crowninshield Wharf
Image 8 - Salem Wax Museum

Back To Top
Start the Postcard Tour

Copyrights, notes and credits for this postcard tour